Have you ever admired someone's appearance and exclaimed in surprise when you enquire their age? Or wondered how that man managed to look stunning in his late 50s? If yes, sometimes, the secret isn't far-fetched; one of these best collagen supplements might be the hack.
The human body naturally produces collagen—made of amino acids bound together in a unique structure to create a solid yet flexible building block. It accounts for up to 35% of the whole-body protein, making it the most abundant protein in the human body. Collagen is found in skin, bones, cartilage, tendons, gut, blood vessels, and other tissues. It is responsible for skin elasticity and brightness and the strength and radiance of our nails and hair.
But as we age, the collagen level in the body reduces gradually, causing skin cells to lose elasticity, firmness, and radiance, while the hair and nails become frailer and brittle. Hence, a need to add the best collagen supplements to your daily food to complement the natural collagen loss.
Why You Need Collagen Supplements
As mentioned earlier, the body losses its radiance and firmness as we grow older. Therefore, we need to take the necessary steps to keep it reasonable. Clinical trials have shown that daily intake of the best collagen supplements can slow down the breaking down of natural collagen in the body. With daily ingestion of the prescribed dose, you will get a plumper and beautiful skin.
Furthermore, it can also promote hyaluronic acid production, which helps the skin look more hydrated. But it would be best if you chose the right collagen supplement for efficiency. Collagen types vary quite a bit, and it plays a vital role in their effectiveness. In this article, we will list some of the best collagen supplements.
Top Best Collagen Supplements for Your Body
Here are the best collagen supplements with no adverse effects on the body.
Orgain collagen supplement is perfect for both men and women. It supports joint health, strong nails and hair, muscle recovery, and radiant skin. Similarly, it helps boost metabolism and improves digestion.
Additionally, it is made to be Paleo and very Keto friendly. It is gluten-free, dairy-free, and lactose-free with no sugar and soy, making it odorless and tasteless. It contains 10 grams of pure unflavored collagen hydrolysate per serving, including numerous amino acids. You can easily add this protein powder to any food or drink.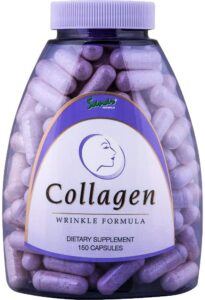 For pill lovers, this is a convenient alternative to collagen powder. Manufactured in a cGMP-certified laboratory with global ingredients, it is dairy-free, gluten-free, and non-GMO. Its capsules are easy to swallow.
Similarly, it naturally boosts skin elasticity and improves hydration, reducing face and forehead wrinkles and dark circles under the eyes. It also enhances hair growth, strong nails, strong joints, bones, and tendons.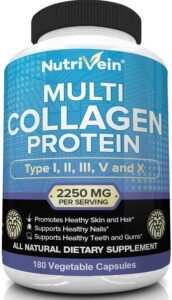 Your collagen needs are covered with this all-in-one super-premium supplement. The Nutrivein pills are high-quality collagen peptides from grass-fed beef, chicken bone broth collagen peptides from wild fish, and eggshell membrane. It helps tighten the skin while decreasing fine lines, wrinkles, and stretch marks.
Furthermore, as the Nutrivein capsule provides collagen Type I, II, III, V, and X, it helps rejuvenate the tendons, joints, ligaments, and muscles while keeping a healthy digestive system. It is also tasteless, easy to swallow, and can be mixed with smoothies, soups, coffees, or baked goods.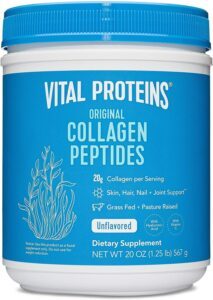 This collagen product is sourced from grass-fed, pasture-raised bovine. Its ability to digest quickly in the body made it one of the best collagen supplements. Vital collagen peptide is made Paleo friendly with no sugar, no gluten, or dairy.
With two daily scoops—containing 20g of collagen peptides—you can improve the health of your skin, hair, nails, joints, bones, ligaments, and tendons. It is easy to use and can dissolve in cold or hot liquids such as coffee, soup, tea, and smoothies.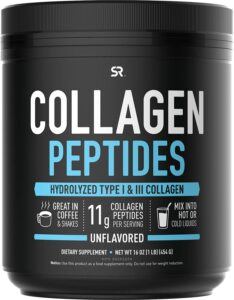 Sports Research collagen supplement contains a single ingredient of collagen peptides made from cattle. Powdered collagen has 10g of protein per serving, and each scoop includes 11g of low molecular weight type II and I collagen peptides with 18 amino acids.
In addition, it is third-party quality tested, non-GMO, Paleo friendly, and Keto certified. Likewise, it supports healthy joints, bones, skin, and nails to give a radiant body. It also tastes great and dissolves entirely in all kinds of liquid.
This hydrolyzed collagen is highly bioavailable, making it easily and rapidly absorbed in the body. It is dairy-free, soy-free, and contains no gluten. The Youtheory product is third-party tested and produced under a high-quality control system.
Furthermore, it contains vitamin C, which helps fight the effects of aging by revitalizing hair, skin, nails, ligaments, and tendons. It will also help your wellness journey by giving the body a healthy sleep, weight, energy, and mood.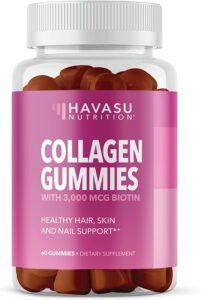 These premium gummies are packed with 3000mcg of biotin and collagen to enhance strong nails, glowing skin, and long hair. It contains the right amount of collagen hydrolysate to keep you looking and feeling your best.
In addition, the Havasu formula comprises essential ingredients such as vitamin C, vitamin E, biotin, zinc, selenium, and hydrolyzed collagen types I and III. These compounds improve skin elasticity, stronger nails, and thicker glooming hair.
Another excellent product is the Garden of Life collagen powder. It contains essential amino acids and branched-chain amino acids, vital in maintaining healthy joints, ligaments, tendons, and tissues. It is highly bioavailable—easily absorbed from the digestive tract to the bloodstream— to the body.
As a tasteless supplement, it is perfect for many food recipes. And it dissolves quickly in either cold or hot liquid. Tea, coffee, smoothies, almond milk, and even water can go. It is non-GMO and third-party tested by iGEN. It is also gluten-free, Keto-friendly, and Paleo-friendly, certified by NSF and Paleo foundation.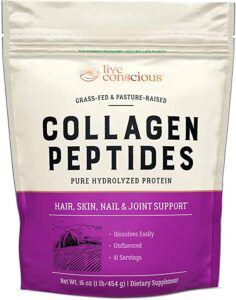 The Live Conscious brand produces collagen Peptides Powder, and they use premium ingredients to achieve the best results. They use hydrolyzed collagen peptides from bovine sources, certified as grass-fed and pasture-raised. It has a natural taste, making it suitable for all kinds of liquid.
This collagen supplement has a rejuvenating power that works on your body to give it a healthier look. It helps revitalize your skin, strengthen hair, improve the ligaments, and renew nails. All ingredients are passed through a high-quality control system to get the right results. Therefore, 100% satisfaction is guaranteed.
Vital Beauty Powder has a lovely strawberry lemon flavor that catches attention when you open its container. It is a blend of hyaluronic acid, probiotics, organic lemon, or strawberry. It is whole30 approved and gluten-free. No additives, fillers, or sweeteners are added.
Similarly, it is very soluble in all kinds of liquid. You need 1-2 scoops per day to achieve that glow. A measuring spoon is provided in the container for easy measurement—15g collagen powder per serving. This powdered supplement helps improve the elasticity of the skin while hydrating it. Also, the hair, nails, ligaments, and tendons will appear healthier.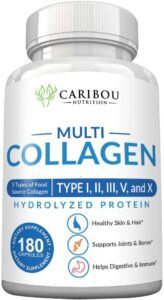 Multi Collagen Pills – 180 Collagen Pills – Type I, II, III, V, and X Collagen Capsules
Multi Collagen Pills are produced by Caribou Nutrition, whose core value is to make excellent products that satisfy customers. It is formulated with the combinations of 100% grass-fed beef, chicken bone broth, hydrolyzed collagen peptides from wild fish, and eggshells. Unlike other collagen brands, its capsules have no hormones and antibiotics.
Similarly, it brings youthfulness back. It supports a healthier digestive system and works on the skin, joints, muscles, tendons, and ligaments to have a fit body. This product is of the best quality at an excellent price.
Conclusion
A healthy body should be a top priority for all. Therefore, we should scrutinize all that goes into it. As we grow older, our body losses its delicate look naturally. Hence, the need for collagen supplements. Although, there are plenty of accessories available. But it would help if you chose from the best collagen supplements for remarkable results. Go through the list of products to pick the most suitable for you. Ensure you speak with a healthcare professional before adding collagen to your ritual, especially if there is an underlying health condition.