Beard styling started as a niche expression and hipster fashion in the past decade. Now, it has become a moving trend. We have an entire industry for trimming, grooming and styling beards. As a result of the trending style, most men want to know how to straighten beards. Some processes involve using a blow dryer or brush. It can be done quickly at home or by a professional.
If you have been willing to try out beard straightening, you'll find some guidelines and recommended products in this article. With a bit of practice, it could become a routine for you.
Straightening your beard or not all comes down to your personal preference. It all depends on how you like the look and feel of it. Does your facial hair feel very scraggly and uncomfortable? Here is a perfect solution that can make your beards ten times more attractive.
How to straighten your beard with a heated brush
The easiest way to get the job done is by using a beard straightener, also called a heated brush. You should purchase one if you plan on straightening your beard from time to time. Below are simple steps to straighten your beard quickly.
Step 1:  Firstly, ensure that the beard is dry. Consider that hair is porous, and it cooks when the heat singes the hair. So, the hair must be dry first.
Step 2: Condition your beard. Make sure that your conditioner is oil-based because you will be cooking out a lot of hair moisture. Using a water-based conditioner could make the hair curlier. Beard oil or balm is also very recommendable.
Step 3:  Create tension. The bonds of your hair help to keep its shape. Hence, adding heat and pressure with a blow dryer or hot comb allows you to reshape the bond and hair.
Step 4: Run a brush through your hair, combing it downward. Do this for a few seconds.
Step 5: Add a little balm to style the beard and preserve your desired shape.
Recommended Products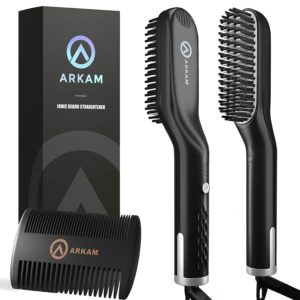 This heated brush for beard straightening is suitable for all hair types. It is made of ceramic material and coloured silver. The product is designed with electrical plugs to be used in the U.S. The voltage and outlets could differ in different areas. It may also require a converter or adapter before being used in your destination. Compatibility should be confirmed before purchase.
The straightener has three levels of heat for different types of hair. It is burn-free, consistent and provides easy straightening. The brush heats up in 30 seconds and shuts off automatically in 30 minutes. Its heat levels are 300 ֯F/ 149 ֯C (thin and fine hair), 355 ֯F/ 179 ֯C (medium and wavy hair), 400 ֯F/ 204 ֯C (thick and curly hair). With this beard straightener, you can achieve a perfect beard in less than 3 minutes.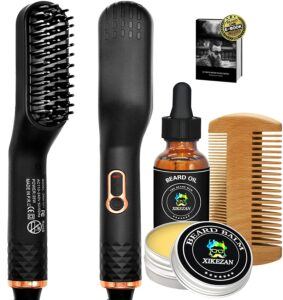 This beard straightener is suitable for thin, thick and curly. It is a blacl5-piece set heated brush coloured black. The meeting is of high quality and has extra long comb bristles. It has high elasticity and is made of a quality glass fibre material. The temperature can be set from 356 ֯F to 428 ֯F. It heats up within 30 seconds. You do not need to be worried about burning your scalp. The hair straightener also automatically shuts down after 30 minutes. It is perfect for travelling as its voltage ranging from 100V to 240V will let you use it anywhere.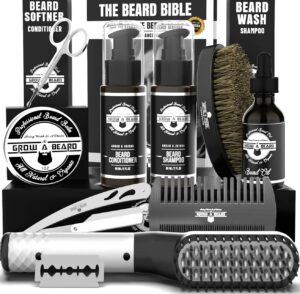 This product is suitable for different types of hair. It is constructed with advanced ionic technology. Use a temperature above 380 F (190 C) for straightening a curly beard. The package comes with an Organic sandalwood 20z balm, Unscented growth 2oz oil, razor and scissors, beard brush, shampoo and conditioner. It could serve as an ideal present for a husband, son, father, boyfriend on a birthday, Father's Day, Christmas, etc. You can curl, volumize and straighten all types of beards at any time and anywhere with this.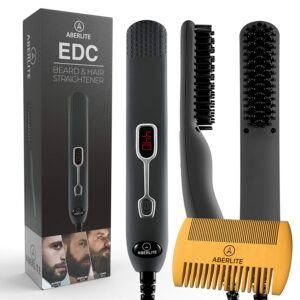 This product is for a curly hair type. It is specifically designed to avoid damaging your hair and giving you burns. Any beard hair length can be straightened with these short, medium and long beards. It gives you a fuller, softer, neater beard in less than 3 minutes. Aberlite EDC (everyday carry) beard straightener brush has six heat settings. It is suitable for travelling or straightening on the go. Also, it is high quality and light-weighted. Its dimensions are 9.45 by 2.87 by 1.85 inches; 9.5 ounces.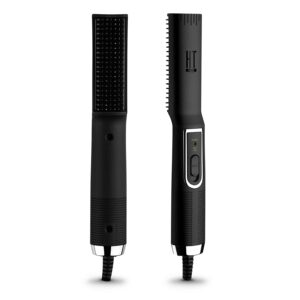 This tool can be used anywhere. It has a dual voltage. The unique bristle pattern glides slowly, making the result faster. Its LED light lets you know when your hairdryer is thoroughly heated and ready to use. It works for all facial hair types. Heat can be increased up to 410 degrees Fahrenheit for a great result. Its made from ceramic and tourmaline technologies. While styling, 6 ft provides freedom to move. Dimensions are 1.88 by 4.5 by 9.38 inches;7.2 ounces. It has a 4.3 out of 5-star rating.
How to straighten your beard with a blow dryer
Using a blow dryer requires a few steps. It gives a fast result if your blow dryer is of high quality. Below are the steps and recommendations to guide you through the experience.
Step 1: Hold a section of your hair at the same width as the tool (round brush or flat comb).
Step 2: From the bottom of your beard, use the comb section by section till you get to the cheeks
Step 3: As you straighten, turn the comb in your hair until you are satisfied with your look.
Recommended Products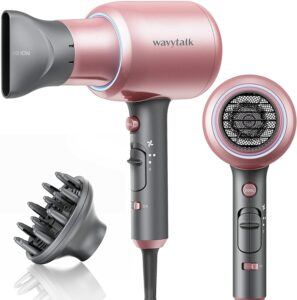 This product is suitable for dry and curly hair. It is made from a ceramic material, coloured grey. The hairdryer dries hair in less than 5 minutes. You do not have to worry about heat damage. The longer you use it, the healthier and shinier your hair. It shuts off when the temperature is too high. Wavy talks blow dryer nourishes the hair. It works well to dry your beard while straightening it.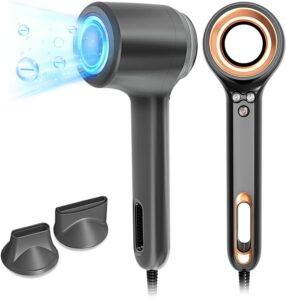 Hairdryer works for all types of hair. There is no more annoying noise while drying your hair. It reduces drying time and prevents hair from too much heat and protein damage. Buttons are easy to press- one for on/off, one for temperature (3 levels of heat), and one for wind speed (3 levels of power). It has 2 easily detachable nozzles (small nozzle and modelling nozzle) with a 360 degree. Cleaning is easy as a result of a detachable filter which is at the bottom of the handle. The drier should not be used near water. You can increase and decrease the heat manually based on your preference.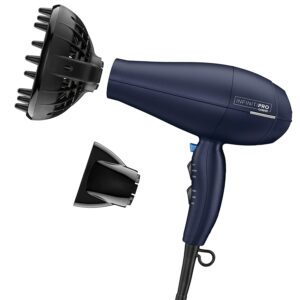 There are a few things you should consider before straightening your beard. First is the length of your beard hair. Before straightening it, you should consider trimming it if it is very long. Also, when your hair is very curly, it will be longer after straightening. It will be more challenging to straighten if it has a tight natural hair curl. You should also know that; beard hair is often coarser and thicker than scalp hair. It grows in many different directions.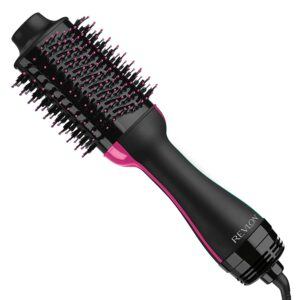 This product works with dry hair and is made from ceramic material. It is designed with is tourmaline IONIC TECHNOLOGY. The hairdryer has three heat settings and two-speed settings, which gives you options while drying and styling. The rocker allows you to turn off and on the hairdryer and control the heat and speed quickly. The dryer has a comfortable grip and gives you a long-lasting result. Its ceramic coating makes the heat distribution even, and the tourmaline helps seal the hair cuticle. The product dimensions are 3.63 by 10.63 by 8.38 inches. This product has a 4.6 out of 5-star customer review. It is safe and quality
The above steps and recommendations are enough to teach a beginner to straighten a beard. A blow dryer and small round brush can effectively straighten your beard. Ensure that a high-quality balm is used on your beard to prevent it from folding up after. You do not want your unkempt beard to ruin your good looks. Take good care of your facial hair.