Collagen play important roles in the body. It is the most abundant protein available in the human body. And like the common proteins, it helps build and support tissues such as bones, cartilage, skin, eyes, hair, and the digestive system. But then, what is collagen good for specifically?
In recent times, collagen has gained attention as a nutritional supplement and ingredient in shampoos and skincare products. And people are more aware of its usefulness. Since collagen provides structure to the body, helps strengthen the gut lining, and maintains the bones, joints, tissues, nails, and skin, it keeps the body looking younger and stronger. Hence, it is an ultimate anti-aging weapon.
There are different types of collagens, but the most common are Type I, II, and III. And they all play different roles in our bodies. Type I and Type III are the most prevalent for strong hair, skin, nails, and bones. In contrast, Type II promotes joint and cartilage health.
Let's look at the benefits of collagen—i.e. what is collagen good for—before listing out some of its products.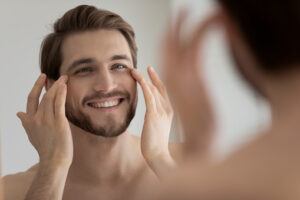 Benefits: What is Collagen Good For?
Helps Boost Skin Elasticity and Smoothen Wrinkles
One of the most important uses of collagen is for skin health. In a 2019 study, it was shown that women who took collagen supplements had immense improvements in their skin appearance and elasticity. Furthermore, it helps the skin better hold onto moisture while increasing the density of collagen fibers within it. Likewise, it minimizes lines and wrinkles on the skin when used in topical treatments.
Helps to Cure Joint Aches and Pains
Joint pain can hurt your daily activities. But with a collagen supplement, you are sure to get back on track swiftly. It supports connective tissues and improves joint pain after exercise. A study published in January 2017 in the journal Applied Physiology, Nutrition, and Metabolism showed that athletes with knee pain who took 5g of collagen peptides every day for 10-12 weeks had a relieving joint ache during exercise in a placebo group. Hence, oral collagen can support cartilage repair, act as a mild pain reliever, and have an anti-inflammatory effect.
Gives Thicker Hair and Healthier Nails
Many people tend to experience hair loss or thinning, affecting their looks. A proven way to avert this is by collagen use. In a study, a group of women with hair loss saw improved hair quantity, thickness, and scalp coverage while taking daily collagen supplements. Similarly, some people's nails don't grow fast or break easily. But after four weeks of daily usage of collagen supplements, they experienced faster nail growth and fewer broken nails.
Increases Muscle Mass and Keep Bones Healthy
A study with active men showed that collagen peptide supplements and strength training could increase muscle mass and strength. Also, bone mineral density decreases as you age. But taking collagen peptides can increase it. This is because collagens stimulate bone formation while slowing down bone loss.
Keeps Your Heart Healthy
Collagens also help to boost heart health. Few pieces of research have shown that taking a collagen tripeptide twice daily for six months can improve cholesterol levels and reduce risk factors for atherosclerosis—which is the hardening of the arteries. It was also noted that collagen helps fortify blood vessel walls to reduce artery disease risk.
Promotes Gut Health
People with inflammatory digestive conditions like irritable bowel disease (IBD) are found to have decreased collagen levels. Therefore, adding collagen to their medication can help correct the deficiency. As collagen is part of the connective tissues —that make up the colon and gastrointestinal tract— bringing its level up can create a supportive environment to heal patients' bodies. Trying a supplement or dietary approach can also be a good way to increase collagen intake.
Top Collagen Products That Are Essential for Your Body
As we have known the answer to the question, "what is collagen good for?" here is a list of top collagen products for healthy living.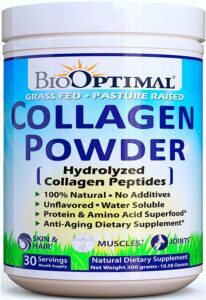 This collagen-packed powder is built to support youthful skin, hair growth, muscles, nails, gut, bone, and joint health. A perfect all-natural and non-GMO anti-aging collagen supplement for men and women. It is a complete package of what you need in a collagen powder supplement. It improves skin firmness, elasticity, and hydration if used daily for a minimum of 2 months.
Furthermore, it is tasteless and easily dissolves in cold or hot liquids. You can add this powder to either your coffee, beverages, smoothies, yogurt, soups, baked goods, or other recipes. It has a 90 days money-back guarantee if you are unsatisfied with the result.
Dr. Emil's collagen product is an all-in-one collagen peptide pill that features a blend of 100% grass-fed bovine, chicken, eggshell, and marine collagen sources. It is made with the highest quality ingredients; gluten-free, non-GMO, and free of hype.
This collagen product promotes healthy hair, improves skin elasticity, strengthens nails, improves gut health, and supports strong ligaments and tendons. In addition, it reduces wrinkles and enhances skin hydration to support a youthful appearance.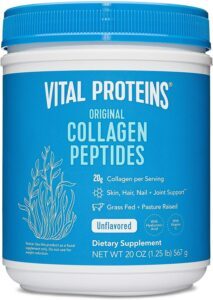 This is a bioavailable collagen peptides powder sourced from grass-fed, pasture-raised bovine. Its powerhouse ingredients include original collagen peptides, hyaluronic acid, and vitamin C. It digests easily and get absorbed into the body for maximum benefits.
With no added sugar or sweetener, this product helps to improve the health of your skin, hair, and nails. Similarly, it enhances the health of the joints, bones, ligaments, and tendons. Made with its consumers in mind, it is flavorless, odorless, and without gluten and dairy.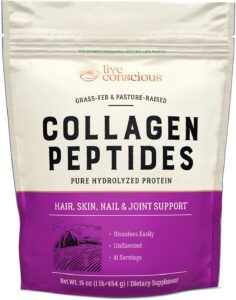 Normally, when you look healthier, you take years off your appearance. That is what the collagen peptides powder does to your look. It is a perfect anti-aging product that can help restore sagging skin, replenish thinning hair, and renew brittle nails.
Furthermore, it uses hydrolyzed collagen peptides from bovine sources, certified as grass-fed and pasture-raised. Likewise, it has a natural taste that is most preferable for your favorite smoothie. Reviews gotten from users show 100% satisfaction with no negative effect.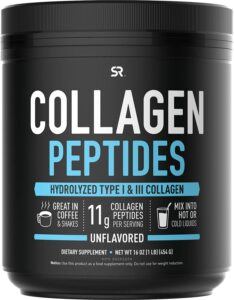 This collagen product is made by the Sports Research brand, borne from a passion for fitness, wellness, and healing. It contains single ingredient collagen peptides sourced from cattle. Each scoop of collagen protein powder contains 11 grams of low molecular weight type 3 and 1 collagen peptides; with 18 amino acids, including glycine, proline, and hydroxyproline.
Like the other collagen products, it supports healthy bones, skin, and nails and improves joint function and body response to strenuous activities. With one scoop per day, you can ignite your inner beauty to radiate outside.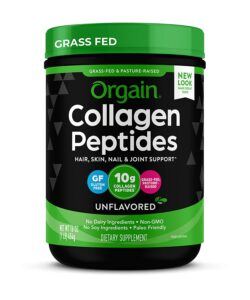 Though it now has a new look and label, but still the same great collagen product. It is paleo and keto-friendly, gluten-free, dairy-free, and lactose-free. Also, it is odorless and tasteless with no soy and non-GMO.
Similarly, it is perfect for both men and women. It supports joint function and health, strong hair and nails, radiant skin, and muscle recovery. In addition, it boosts metabolism, improves digestion, and mixes easily in food or drink.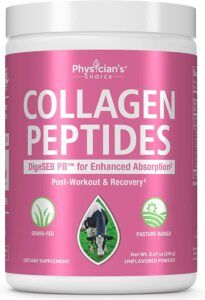 This hydrolyzed collagen powder is hormone-free, grass-fed, and pasture-raised. It is all-natural and contains patented DigeSEB digestive enzyme, which aids absorption. Furthermore, it is third-party tested for purity and made without the use of harmful additives.
Unlike most collagen products, this enhanced absorption powder contains DigeSEB and 19 amino acids to help repair and replenish hair, skin, and nails. It also aids post-workout and recovery.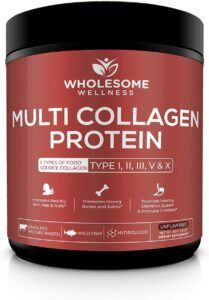 Manufactured in a GMP facility, the Multi collagen protein powder is seamlessly pure, with no additives, fillers, and chemicals that can be unhealthy to the body. It is also gluten-free and non-GMO. It is passed through strict quality control to produce 100% clean products.
Similarly, it helps keep the skin and connective tissues healthy by improving elasticity and hydration to minimize fine lines and wrinkles. It is also essential to form cell surfaces that reinforce healthy skin, nails, hair, and other connective tissues. In addition, it promotes the healthy development and repair of bones and cartilage.
Conclusion
As we age, the body's supply of collagen naturally decreases. And this can lead to familiar aches, saggy skin, wrinkles, digestive issues, and stiffness in the bones and joints. We need the listed collagen products as an anti-aging agent for healthy body formation. I guess you now know "what is collagen good for" from this piece.